YIRUNDA Participating in the RetailX 2019 Trade Show
Views:257 Author:Site Editor Publish Time: 2019-07-02 Origin:Site
On June 25-27,2019 (Wednesday-Thursday) 2019, our company YIRUNDA went to Chicago took part in the RetailX 2019. The trade show was held in the McCormick Place South, Level 3, Exhibit Hall A2301 S King Dr. Chicago, IL. Our exhibition booth number is 3363.
The RetailX 2019 Trade Show & Conference, a colocation of the nation' s top three retail events, is proud to announce a partnership with Retail TouchPoints as part of the conference program.
YIRUNDA is a professional shopping trolley manufacturer, who commits to provide whole solution to world customers, our main products are: supermarket shopping carts, plastic shopping carts, rolling containers wheels and coin lock for shopping carts can be customized according to customers' special demands. Our products all have SGS/CE/ISO certification and 95% of products export.
At the exhibition, three types of trolleys were exhibited: shopping trolley, plastic trolley and warehouse trolley.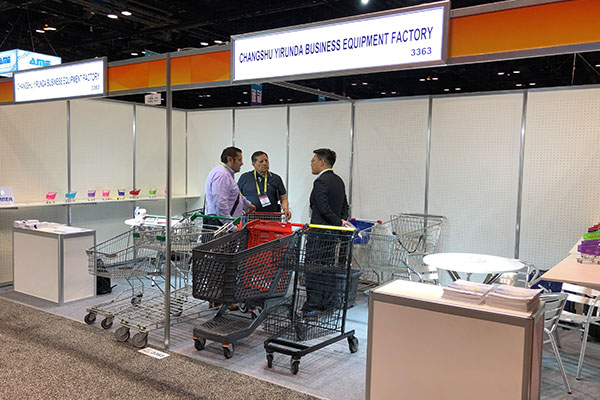 The shopping trolley material is stainless steel, logo and seat panel can be customized. Ergonomic design delivers easy maneuverability with minimal user effort. Surface high-gloss galvanized, chromed and with transparent plastic powder coating.
The plastic trolley use polypropylene plastic basket, food-safe design, 100% recyclable. The steel pipe under frame extending up to the handle unit ensures maximum stability.
The warehouse trolley can transport ingredients and chemicals from the dock to the production floor. Corrosion resistant for sanitary and washdown environments.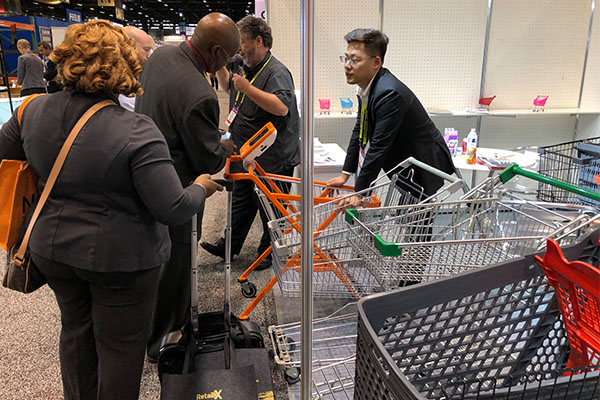 As you can see in the picture, many customers showed great interest in our latest product -- smart shopping cart. Want to know more about it? Feel free to contact us:
Tel: +86-139-1363-0594
Email: yrd@csyirunda.com sales14@csyirunda.com
In terms of customer service and product quality, we will do better and better.