Is it Right that a Grown Adult Ride in Shopping Cart?
Views:264 Author:yirunda Publish Time: 2019-04-24 Origin:Site
When it comes to the shopping cart, the design is in such a way that it should be handled and operated safely. It is primarily built for the transportation of goods purchased in the retail store. Any other use that is contrary to what the shopping cart is primarily designed for could lead to its damage an even becoming unsafe.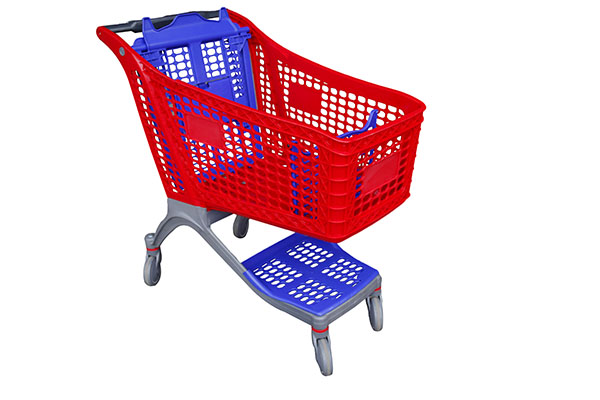 People tend to misuse the shopping cart for other purposes other than what it is intended for. Most times, it could be used for other conveniences. For example; there has been a case of an adult riding in the shopping cart. Probably for convenience or just for the fun of it. This is an unsafe act and could lead to damage to this shopping equipment and also cause injuries.
There are different designs of the plastic shopping cart. Each has its own load capacity. Some of them have been designed to provide comfort for those nursing mothers. They have carriers or child seating area attached to support the weight of kids. However, only infants should be allowed to sit in this spot. It is designed with a seat belt and should be secured at all times.
For retail business owners, there are certain safety tips to ensure that the shopping cart are appropriately used while preventing injuries.
Let's look at them thus;
Shopping Cart Safety tips
Always encourage shoppers with child in the cart to make proper use of the seat belt.

Educate your employees what to do when they observe unsafe use of carts; when and how to intervene

Carry out routine checks on the carts to detect damage or defects and ensure that they are removed immediately.

Always inform the management if there are unsafe conditions in the store for proper actions to be taken

Carry out routine maintenance and repairs ensure that the carts are in proper working order.

Children should not be allowed to ride on a shopping cart in any spot other than the seating area.

Children should not be left unattended in the shopping cart.

Children should not be allowed to climb in and out of a shopping cart

The cart should not be used for something else other than what is intended or overloaded beyond its capacity.

Children should not be allowed to push a shopping cart.
Shopping Cart Safety Inspection Information
To keep the Supermarket Shopping Cart equipment in proper working order, routine inspection and maintenance should be carried out. Through regular visual inspection, it is easier to identify problems if there's any. Staff should also familiarize themselves with the carts and what they should inspect daily.
Care and Maintenance Information


Metal Shopping Cart are used daily as shoppers expect excellent performance. This implies that the inspection and maintenance should be thorough. This will not only ensure proper working of the equipment, it will also improve the lifecycle. However, it is important to clean and perform maintenance on your carts at least one every three to six months. Again, the carts should be serviced by qualified service company or trained in-house personnel.