Warehouse Trolley: 6 Factors to Consider When Choosing a Quality Warehouse Trolley
Views:227 Author:yirunda Publish Time: 2019-11-06 Origin:Site
Working in a warehouse is not always as simple as it sounds. From carrying and moving boxes to lifting and storing heavy luggage at different shelve heights, work in the warehouse comes with some level of stress.
However, a wide range of equipment has been developed to make the task relatively simple and easy to carry out. One such equipment is the warehouse trolley. Trolleys are used in transporting items from one point in the warehouse or the supermarket to another, and even for moving and transporting goods from outside into the warehouse.
When choosing a trolley for your warehouse or supermarket needs, there are essential factors that should be taken into account. Here, we will look at how to choose the best trolley in the market.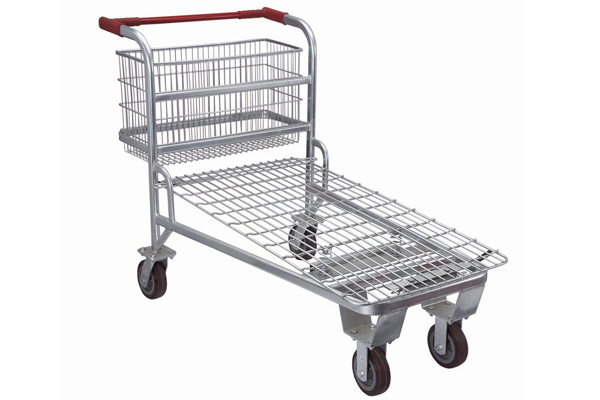 Let's get started!
Application
First, you need to know your requirements. There are different types of trolleys, with each type having its unique application. What type of goods or items will the carts carry? What's probable size of the items? Who will be handling them? The age category of individuals is also important. All these information will help you to choose a most suitable cart for your retail business.
Know your requirements
You also need to consider your retail shop space requirements. If you have a limited storage space, then you can go for the sizeable trolleys which are handier. On the other hand, the heavy-duty trolleys with large area will be ideal if you have ample storage space.
Flexibility
Before making your choice of a trolley, you need to verify if the trolley can serve for several purposes. Another essential question to ask is if it can be adjusted to suit the object's height and width. Some trolleys can be easily extended and retracted to suit the situation at hand.
Look for Customized Options
It is preferable to get a trolley that is custom-made to suit your specific job. For example, you can opt for a shopping cart with inscription that matches with your company emblem or logo. You can ask for your trolley to be designed the way you want it.
Design
Also, the design of the trolley matters a lot. You need to pay attention to the shape, size and load capacity of the shopping cart. The heavy-duty trolleys will be perfect if you are dealing with heavy loads.
Reliable Manufacturer
Before you go ahead to choose a shopping cart for your store needs, it is essential to verify the reliability and competence of your proposed manufacturer or supplier. You can ask for references from co-workers, friends, and even relatives. You can ask them to suggest a reliable manufacturer makes uses standard and top-quality materials in designing their equipment.
Another factor you will need to consider is your budget. It would help if you chose shopping carts that meet your business budget. But it is always important to consider the quality of the product before price. Doing so will save you from unnecessary costs in the long run.
These essential factors will help you on your next journey to choosing a shopping cart for your retail business.