Shopping Cart & Its Different Accessories
Views:295 Author:yirunda Publish Time: 2019-07-10 Origin:Site
The advancements in technology have indeed changed our lives, and the same has applied to the supermarket shopping cart. Now, different dedicated companies are making different types of shopping cart accessories. One of the top companies is Yirunda. Yirunda is a China-based wholesale shopping cart supplier having more than 14 years of experience of production. The organization produces a different type of shopping cart and shopping cart accessories.
A unique type of shopping cart accessories that the company produces is folding cargo trolley. It is a rolling container. This rolling container is very suitable if you want to move your stocks and products from one place to another in large quantity. This rolling container is ideal for large businesses. This part of shopping cart accessories is equipped with foldable technology so you can save your space when you are not using the container. The container is beneficial in industries where you can put your different tools and service parts in its various compartments to shift to another place. This cargo trolley has strong multi-structure in which you can store different materials as per your usage. The trolley can save a weight up to 500Kg. The structure of the cart is made up of strong welded steels that help it store that much weight in itself.
Another part of different types of shopping cart accessories made by the company is shopping cart lock. A shopping cart lock can be used for safety purposes. It works on a simple mechanism. Shopping cart lock is equipped with a coin, so once this lock is interconnected with another cart, the currency will be returned to the user, so it doesn' t cost any money to the user. This method is very affordable and efficient, and it also ensures that your cart will not be stolen in case your trolley isn' t in your view. The company makes different types of shopping cart lock; some are made up of plastic while others are made with stainless steel. However; whatever the material is, the working procedure of shopping cart lock remains the same.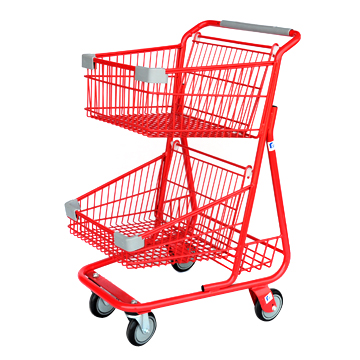 To give a better understanding of this company, I want to mention another supermarket shopping cart made by YIRUNDA.
This is a Canada style shopping cart made by YIRUNDA. This cart has a superior long-life finish, and It protects your cart from scratching, impact abuse and abrasion. This shopping cart has stress-crack resistant feature. You may have noticed that different type of shopping carts gets cracks if they are exposed to relatively cold temperature. However; the stress-crack feature in this Canada style shopping cart helps the shopping cart in avoiding any crack even if it is exposed to sub-freezing temperature. This cart is designed in such a way that it can be moveable by applying minimum efforts.
As this company is experienced shopping cart manufacturer, they do provide after sale services with their products and facility of free samples is available in their different products. You can visit the company website for details regarding free samples.