SHOPPING BASKETS FOR SHOP OWNERS
Views:221 Author:yirunda Publish Time: 2019-02-25 Origin:Site
Every shop owner has one thing in mind, which is to improve the store's profit. There are several approaches to this. While one of the approaches involves you inspiring your customers or shoppers to purchase more of your product or service when they are already in your shop, another way is to work on improving customer experience. This means that shopping has to be made as easy as possible for customers who walk into the shop.
So far, it has been shown that shopper earns less these days but purchases are more regular due to the easier location of retailers as well as shoppers' busy lifestyle. Most people find it difficult to make plans regarding the exact items the family may wish to eat probably for a period of time or go for a single large purchase, say weekly or more. What this implies is that instead of grabbing that big shopping trolley for the single large purchase, people tend to go for the shopping baskets which are lightweight and smaller sized.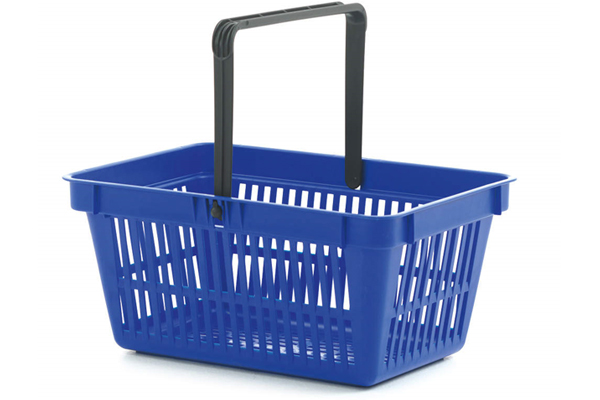 Now, most big supermarkets have realized this trend and have simply introduced easier shopping baskets into their stores. They are placed at strategic points to enable those who may end up buying more items than they first proposed and probably are not able to carry everything in their hands. In this case, the shopping baskets serve as complimentary transporting devices. However, there have been reports that claim that shops that do not provide devices such as the grocery shopping baskets then experience lower sales when compared to those retailers that offer them.
What we have today are plastic shopping baskets that are easy, light and durable for use. However, when compared to the metal baskets, plastic shopping baskets have a lot of advantages. One of the advantages could be seen in the fact that most shopping baskets become bent and subsequently damaged when exposed to accidents or impact against solid surfaces.
Now, the plastic shopping baskets offer more flexibility making them stronger and durable. There's less probability of the plastic shopping baskets getting damaged because they are light. Again, considering the weight, metal shopping baskets could easily contribute to the weight of items which makes it even difficult for customers and discouraging them from making heavier grocery purchases. The basket is simply overweight and they head straight to the checkout counter without purchasing any other item even if they wish to. That's not the case with the plastic shopping baskets.
Today, plastic shopping baskets have been designed with thicker handles (two of them) which makes it even more comfortable to carry and durable. This improves luxury for the shopper. However, there are different types of shopping baskets with different colors, with or without wheels to help improve customer experience. They are of different sizes; standard and bigger sizes.
This offers several options for customers to select from. Shopping baskets with wheels have recently gained popularity in several big supermarkets. Some would even have their logo printed around the basket sides to portray another form of branding. Good for the retail store!