How To Choose The Right Kids Carts For Your Supermarket?
Views:228 Author:yirunda Publish Time: 2019-11-16 Origin:Site
Each year, more than 30,000 kids go to the emergency of hospitals due to shopping carts injuries. In most cases, the kids have fallen from the carts or the cart just turned over. There are diverse reasons behind an accident like the unstable design of the cart, broken or no safety belts. More often, children try to jump out from the cart which leads to a severe incident. For that reason, the supermarkets are considering various things while choosing a child's shopping cart.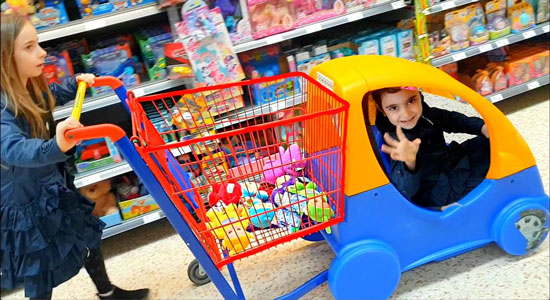 How to choose the right kids carts for your supermarket?
Whether you want a shopping trolley for young person or kid, there are different things that you have to consider. For instance, you need to consider the quality, maintenance, design, and durability of the trolley. In this way, you will be able to satisfy your customers. However, when you are going to select the right kids' carts for your supermarket then there are many other factors to consider. Right now, we are going to elaborate on these factors.
Functionality
The first thing you should think about is the functionality of the children's shopping trolley or kid's cart. The functionality includes the straps and seats for children. The seat must be comfortable and the straps should be present to protect the kids from falling. It is important to ensure that the straps are flexible. In this way, they could easily adjust according to the size of different kids.
Stable Design
Always remember that you have to pick the children's shopping trolley or cart that has a stable design. The typical carts and trolleys are not stable at all. However, the modern ones have a stable design which is ideal for babies and toddlers. The seat is usually available low to the ground for the safety of the child.
Material Quality
Whenever you go for grocery carts for sale then pay attention to the material quality. Many manufacturers are offering trolleys and carts made up of top quality material. When it comes to the children's safety, you have to purchase these carts. They will not become rusty, dirty or dusty which means you can use them in the long run. In addition, they will not break away.
Wheels
The wheels of the child's shopping cart must of top quality and accurate size. The wheels should be stable, strong, durable and wear-resistant. They must be capable enough to handle diverse floors or roads. Choose the cart that has brand new wheels. The new wheels are those that have covers. These wheels will stay balanced on all floors and not let the child fall off.
Final Words
If you want to get repeat customers for your supermarket then you have to be choosy about the children's shopping trolley. They must be lightweight, functional, adjustable and of top quality material. They should have all features that are essential for kids like safe-dock, straps, designated seats, and accurate wheels. These carts or trolleys are considered to be the right kid's carts for your supermarket. However, you must not choose those carts that have excess features like metal zippers, metal buckles or others.