How Can People In Wheelchairs Have A Better Shopping Experience?
Views:228 Author:yirunda Publish Time: 2019-12-05 Origin:Site
People across the world want to have the best shopping experience. However, only healthy people can have a better shopping experience. The people who have any disability cannot do shopping properly. Many stores do not focus on disabled people due to which the disabled people have to face problems.
Today, shopping cart brands are focusing on these people. They have introduced 4-wheel shopping cart designs that are suitable for people with disabilities. These carts are spacious, lightweight, and easy to move. They are easy to manage and handle. These carts are not just good for persons with disabilities but the senior citizens as well. They can do shopping without any issue.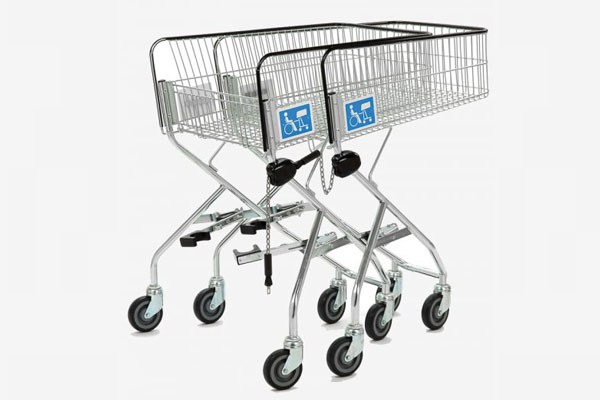 How can people in wheelchairs have a better shopping experience?
The people in wheelchairs can have a better shopping experience if the store owners focus on some things. These things can facilitate disabled persons to the maximum. Right now, we are going to mention these things.
Accessible Shopping
First of all, the retail stores and markets should be accessible to every person. However, some store owners limit their thinking to healthy people. They do not consider the people in wheelchairs when it comes to accessibility. For that reason, a question arises "what the retailers have to do to accommodate the persons with diverse kinds of disabilities?"
There are diverse things that come into mind when we talk about accessible shopping. The accessible shopping starts with the parking lot and entrance. The parking spaces and entrance should be wide and well-marked. There must be strict rules for the entire premises. It implies that the violators will need to pay the expense. In this way, people will try to avoid violations.
Wheelchair-accessible Shopping Carts
The store owners should focus on the shopping carts. Presently, the wheelchair-accessible and self-driven shopping carts are readily accessible in the online and offline markets. These carts are fully automatic. They have a camera through which they recognize the face of the consumer and then follow her/him in the store. This type of cart is useful for people with different disabilities. The store owners can get these carts from the best shopping trolleys suppliers.
If you own a store or supermarket, then you should go for the supermarket trolley for sale. Purchase the trolley that is suitable for disabled persons. Check out a huge variety of trolleys of diverse brands. It is essential to go for the popular and old brands instead of unknown or new. The renowned brands will provide you the best trolleys for sure.
When it comes to the shopping trolley price, then you have to prefer the features over price. There is no need to purchase trolleys that are suitable for healthy people. You must spend money on those carts and trolleys that are useful for all healthy and disabled people.
Turning Shopping Into Experience
Some checkout counters should be fixed for disabled persons. In this way, they will not have to wait long for their turn on the checkout counter, which will save them from exhausting. This thing will turn shopping into an experience for people on wheelchairs and other disabilities.