Electrical supermarket shoppig trolley brings a revolution
Views:573 Author:Yirunda Publish Time: 2018-01-16 Origin:Site
Shopping carts for grocery has been born for nearly 100 years,the shopping trolley design and shape are same basically in different ways, there is a new invention about the shopping carts of mall, let's see how is it? is it really useful and convenient for our daily life in future?
Israeli electrical engineer Avraham Hagay wrote into Gizmag this week to tell us about his invention on shopping trolley, a motorized shopping trolley designed to make it easier to push a full load of groceries around the store and back to your car. The system, which carries loads of up to 120 kg (265 lbs), can be retrofitted onto existing carts or integrated into new builds. Hagay's currently in talks with local companies and he hopes to soon find a business partner to help manufacture, market, and sell the technology worldwide.

Why does he want to design this kind electrical shopping carts?
"It all began when I saw old people having difficulty driving the heavy trolley in the super[market]," Hagay tells Gizmag. "I noticed that it is hard also for young women." Hagay researched online and couldn't find any standard shopping carts with motor-assisted drive, so he decided to build one himself.
How is the different designs making process?
The first prototype (pictured below) was essentially just an electrical motor that attached to a regular trolley at one of the wheels and the underside of the cart platform. Testing showed it was too heavy and cumbersome for practical use, so Hagay designed a mechanical structure to hold the electrical engine and the wheel. This could replace the existing rear-left wheel. And to it he added a rechargeable battery, control box, and speed throttle.
That second prototype also proved problematic, this time because it accelerated too fast when the trolley is empty. To fix the problem, Hagay added a speed sensor to the wheel structure. The control unit can now adjust the speed to a programmable maximum of 10 km/h (6.2 mph). Hagay says that the speed is usually 3 km/h (1.9 mph), with a linear acceleration below that point.
How to manipulate the carts?
A speed throttle on one of the hand grips gives you control over the precise speed of the trolley, just like on a motorcycle. Next to the throttle you have a battery power indicator and an on/off switch. The electric trolley runs on two 12V/5Ah batteries connected in serial to reach 24V. Hagay says it should last for 12-13 km (7-8 mi) of travel, which will likely necessitate charging every two days. The battery box can be easily swapped out for another one while it recharges, so the supermarket doesn't have to worry about putting the trolley out of commission for more than a few minutes.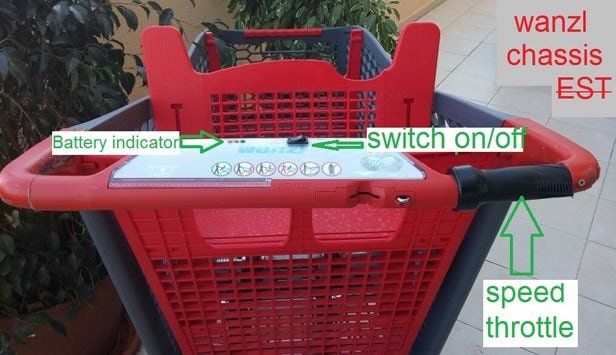 How is the electrical shopping trolley usage life?
Hagay says that the necessary parts can be retrofitted to existing supermarket trolleys with little difficulty because most supermarkets around the world use the same trolleys and the same type of wheels. That means that most carts will be able to accommodate Hagay's wheel holder structure without modification, and for those that don't the structure could be redesigned to fit the differences.
So, i think it is a good invention for all ages usage people,especially for the old people.
Hagay has tested his electrical super trolley to rave reception in his local community, and it's been received with enthusiasm by Israeli supermarket companies. "Since I am a private person and still do not have a company, locally in Israel I joined a local super trolley importer," Hagay explains, "and he presented the product to the big local super[market] brand companies."
YIRUNDA will contact Mr.Avraham Hagay for cooperating in near future, if the sample shopping trolley is successful, then i suppose this will be a good business chance. if you are interested with this, pls contact us about the schedule.